2019, ELEVATE, Shanghai
This interview was conducted by Andrew from ELEVATE before the Shanghai Art Drop and opening of the Ravages of Time & Permanence of Wonder exhibition at Suzhou Arts Collective in Suzhou, Jiangsu, China.
Where are you originally from, where are you now? When/how did you arrive there?
Pennsylvania, Florida, Georgia, and California… then overseas to loose all my money in a failed business venture in Nepal… then the old uphill battle in Costa Rica, Saudi Arabia, and China. Teaching helped pay the bills. Writing and illustration work helped me remind myself that I wasn't a failure.

How do you describe yourself as an artist? E.g. painter, sculptor, photographer etc.
I create Travel Art. I paint travel portraits, paintings, and illustrations.
How did you start off in art?
I learned graphic design at a tech school. Then while working as a designer and illustrator, I finished my BFA. I became exhausted by illustration and design in the corporate world and moved overseas, starting my own business, teaching, and writing. Recently, I've decided to bridge over to the fine arts from illustration.
What sort of art did you make then, and what sort do you make now?
My Masters degree is in the study of mythology. My book Heart of Myth is about comparative mythology and my book Myth & Medium is a collection of my fine art related to mythology. Then… myth was the conceptual core of my fine art. Now… I'm focusing on travel as a gateway experience to the universality of wonder.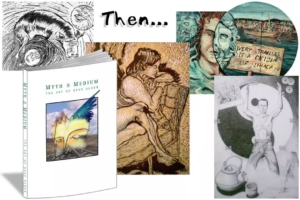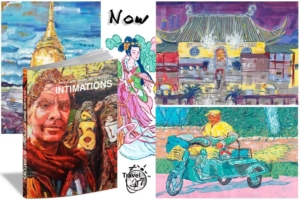 What have you been working on lately? Can you tell us about any recent project(s)?
Recently, I exhibited a collection of Travel Art paintings for the solo show: Intimations. "Intimations" here means capturing "suggestions of wonder" within everyday experiences. Also, I recently finished a collection of large impasto oil paintings for the show Ravages of Time & Permanence of Wonder. The paintings contrast the continuity of cultural forms with the abiding principle of wonder.


Who have been your main influences?
I'm a big believer in the importance of cultural continuity, as well as embracing the current moment. My main influences are the heroes of our cultural tradition, both within the arts and beyond. Henri Matisse's The Green Stripe influenced my directness to the picture plane. I admire Kent Williams bridging of traditionalist and modern sensibilities.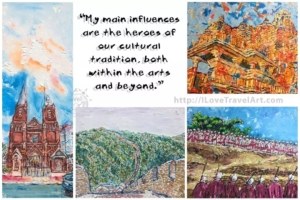 If you could go back in time and meet one artist from history, who would it be, why, and what would you do with them?
In the present… I'd love to study with Kent Williams in California to gain a greater understanding of how he layers a painting. I'd love to work with Himalayan masters bridging Western and pan-Indian art influences. In China, I'd love to work with others in collaborative ventures, mixing up Eastern and Western sensibilities. I suppose I'm happiest in the present.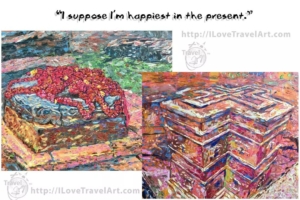 Where do you look for inspiration?
For me… "wonder is the doorway". I look to that emotional experience and see how representational art, high-level concepts, and a deft manipulation of the picture plane can invite a genuinely substantive communication with an art viewer. I see "travel" as a conversational opening for a dialogue about our shared cultural continuity and universal humanity.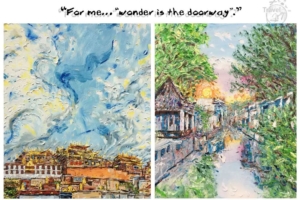 Would you rather be a ninja, a cowboy or a pirate? Why?
I suppose a pirate gets to travel… but the occupation lacks a moral center.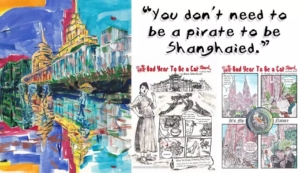 In one sentence, what does being an artist mean to you?
An artist uses the picture plane as a magic mirror to simultaneously reflect and transmit a direct heart-experience of the open-state of wonder.
original interview is archived below: