2018
Gouache on paper
8.27 x 11.7 in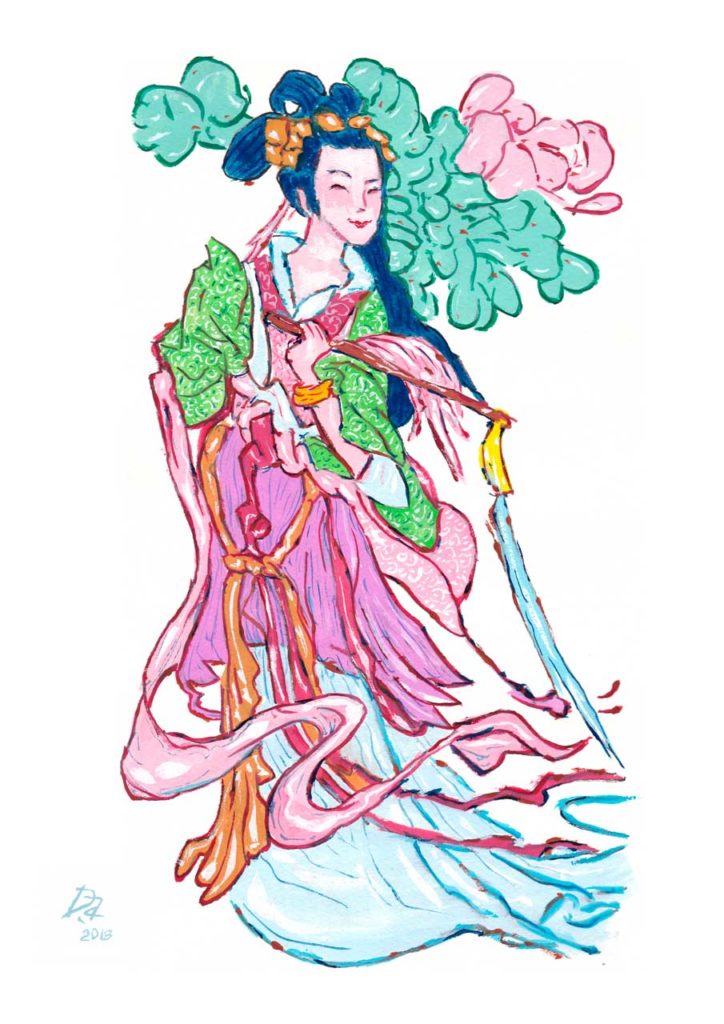 How intimate are your encounters with legend, myth, and spiritual mystery? What services and ceremonies have you joined? Who are the heroes of myth and religion that you most identify with? Are there any characters from foreign myth and legend that always make you smile?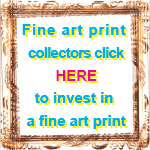 Lady He (He Xiangu) of the Eight Immortals is a gouache illustration by Travel Writer Dave Alber. Lady He is the only female of the 8 Taoist Immortals. I visited a shrine to He Xiangu in Henan, China as described in the article Ancestors and Immortals. In legend Lady He is a celibate physician and an inspirational figure for practitioners of Chinese Medicine.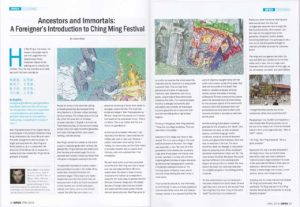 This painting was published in Dave Alber's article "Ancestors and Immortals: a Foreigner's Introduction to Ching Ming Festival" which appeared in Suzhou, China's Open Magazine, Issue 138, April 2018.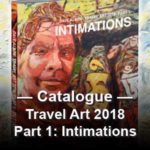 Lady He (He Xiangu) of the Eight Immortals is featured in the art catalogue Dave Alber: Travel Art 2018: Part 1: Intimations.
Only the rare art catalogue can take you on journeys to faraway places and help you bridge cultural understanding with an immersed experience in the traveler's journey.
Travel Art: 2018 Part 1: Intimations contains:
• 23 paintings reflecting life in China, Myanmar, and Nepal
• 4 travel articles
• 2 pages of hand painted comic art
• as well as the artist's statement and biography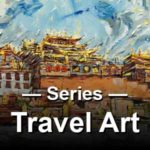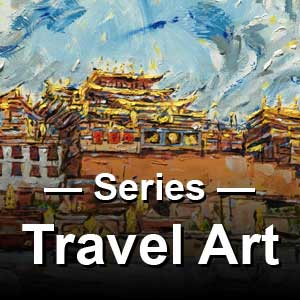 Lady He (He Xiangu) of the Eight Immortals is part of the ongoing series, Travel Art.
What does travel mean for you? Does it mean enjoying romantic sunsets on a faraway beach? Does it mean visiting the city of your dreams? Does it mean an adventurous journey to remote locations far off the beaten track; enriching yourself with a cultural experience; or exploring the depths of ancient civilizations?
"I hope that my Travel Art touches and enlivens your sense of fascination and wonder about the world we live in. I also hope that this Travel Art becomes a conversational bridge between your own unique travel experiences and the collective sharing of the magical quality of the journey. The truth is… we live in an amazing world and the continuity of art and culture is one of the great human contributions to that world. With Travel Art, I don't aim to break this continuity — the shock of the new — but rather to add the "voice" of my brush (even in the smallest of ways) upon this long conversation of life enrichment that remains the sustained contribution of the transmission of art and culture through time."
"As the famous explorer Jacques Cousteau once stated, 'When one man, for whatever reason, has the opportunity to lead an extraordinary life, he has no right to keep it to himself.' Similarly, I hope my Travel Art inspires you to celebrate your own adventures — and maybe even commission a painting or two — and share the beauty of our discoveries in this magnificent world we share… together."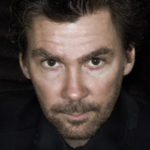 Dave Alber is a Travel Painter whose illustrations have appeared most recently in That's Shanghai, Suzhou Review, Open Magazine, and Nepali Renaissance. His comic "Bedding Shanghai" was featured in the 2018 Shanghai International Literary Festival's Erotic Fiction Contest. For a limited time, Dave's art catalogue Dave Alber: Travel Art: 2018 Part 1: Intimations can be preordered for free at DaveAlber.com. Longer bio and Artist Statement here.
Thank you for being part of the Travel Art Adventurer's Club family.
Warmly, http://davealber.com/wp/wp-content/uploads/2018/09/lady-he-8-immortals-dave-alber.jpg
300
300
Dave Alber
Dave Alber
2018-05-10 09:10:22
2018-11-28 06:39:46
Lady He (He Xiangu) of the Eight Immortals