Chinese ink on paper
7.4 x 9.6 in
The Chinese ink painting is done in a series of washes building up layers of depth and contrast in the final black ink.
"I painted this Chinese-style ink portrait for Zephyria's university graduation. The graduation was in the morning at Henan Polytechnic University (HPU).
"The weather forecast predicted that it would rain, but it was a bright sunny day with wonderful weather to enjoy the graduation of the first sophomore class of students that I had ever taught. They were just entering university at the time that I was just beginning teaching, so we were all new to the whole university experience (each in our own way.)
"Emotionally, it was important to me to see these students graduate. It felt like completing a circle — completing a cycle of change and transformation — entering and finishing the university teaching experience with the same students. We were different people from when we started. Life had touched and transformed us. We were more knowledgable, more proficient in the world. In the intervening years, I had gone on to teach in Saudi Arabia and visited other countries, however we had all done this, completed this cycle of change together."
This early painting is done in the style of the Chinese brush paintings. It has bold brush strokes and simple lines in black ink like Chinese art since the Song Dynasty.
The red Chinese stamp is "David" in Chinese (DaWei 大伟) in Han Dynasty characters. The Chinese seal (Chinese artist signature stamps) is the traditional way of authenticating Chinese art.
"Ah, memories. I'll never forget Zephyria's translating of The Taotie Image in Chinese Art, Culture, and Cosmology into Chinese. I wanted he book to be dual language, in both Chinese and English to help people practice either language. She helped me out a lot, despite being under a lot of school pressure being a double major. Thanks, Zeph!"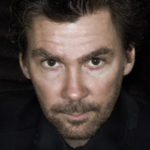 Dave Alber is a Travel Painter whose illustrations have appeared most recently in That's Shanghai, Suzhou Review, Open Magazine, and Nepali Renaissance. His comic "Bedding Shanghai" was featured in the 2018 Shanghai International Literary Festival's Erotic Fiction Contest. For a limited time, Dave's art catalogue Dave Alber: Travel Art: 2018 Part 1: Intimations can be preordered for free at DaveAlber.com. Longer bio and Artist Statement here.
Thank you for being part of the Travel Art Adventurer's Club family.
Warmly,